RFTechniques
RFTechniques manufactures resistors, attenuators and terminations for extreme environments requiring the most stringent performance characteristics.  Our products offer the highest density power dissipation rate up to 500 Watts and up to 6GHz.

RFT devices offer superior power derating up to 250°C, improving system reliability and wider margins of performance under abnormal operating conditions, without damage.  Our high temperature brazing process eables highter temperature opration, greater reliability and improved performance over phisical and thermal shock conditions.  All products are screened with pysical inspection and electrical screening.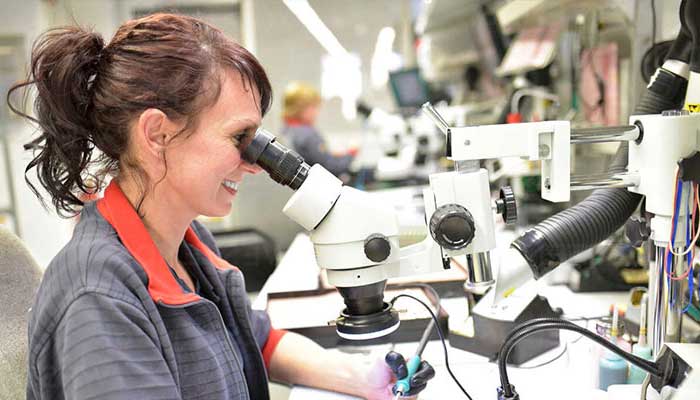 Standard RF M/ Microwave Products
Contact us for custom amplifiers. combiners,and other cellular and military requirements.
ETI COMPANIES
Electro Technik is the parent company for multiple passive electronic component companies organized into three primary business units
Specialty
ETI Company
Cage
Code
Defense
Aerospace
Medical
Telecom
Grid
Power
Power
Conversion
Industrial
Instrumentation
MAGNETICS:
Standard and Custom (Raycom & Hytronics MIL-STD-1553, MIL-PRF-27 & Space)
57812
X
X
X
X
 
X
X
X
29525
X
X
 
X
 
X
X
X
6HF51
X
X
 
X
 
X
X
X
1EYH9
 
 
X
 
 
X
 
X
FILM CAPACITORS:
Standard/Custom/High Voltage/ Audio
0TCV9
X
X
X
 
X
X
X
X
99120
X
X
X
 
X
X
X
 
EMI/RFI FILTERS
68915
X
X
 
 
X
X
X
 
PRECISION RESISTORS:
Wirewound/ Current Sense/ High Temperature (Tepro RL42 series MIL-R-22684/4&8), High Voltage, Ultra-Precision, Compensators, SMD
15915
X
X
X
X
 
X
X
X
9T572
 
X
X
X
 
X
X
X
48615
X
X
X
X
 
X
X
X
RF/MICROWAVE:
Terminations, Resistors, and Attenuators
0C3F5
X
X
X
X
 
X
X
X
0NR42
X
X
 
X
 
X
X
X
RF/MICROWAVE:
Circulators & Isolators
1MVH0
X
X
 
X
 
 
X
X
4G7W2
X
X
 
X
 
 
X
X